Discover Lacey
Lacey's residents and visitors have a wide variety of recreational parks, lakes, and other outdoor adventures. Enjoy a nice bike ride, walk through a park, or picnic at one of our outdoor facilities.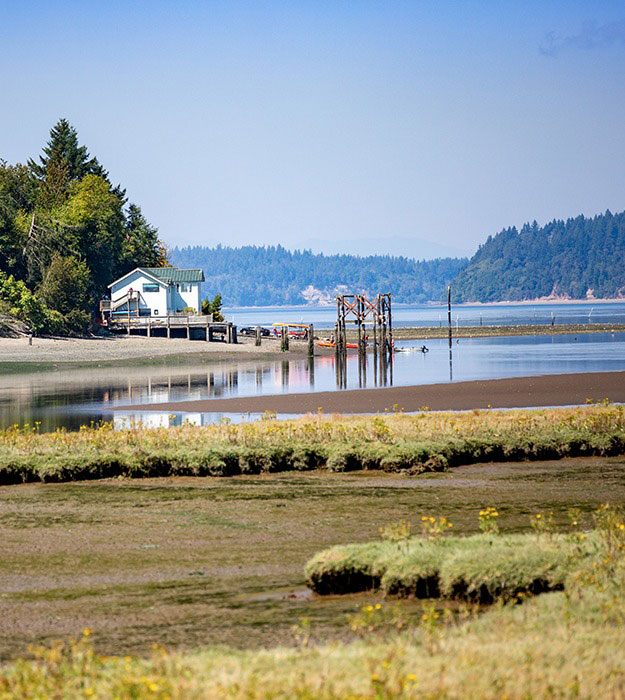 *Featured Parks listed below.
Huntamer Park
Lacey
This downtown park is the site of numerous outdoor events throughout the year, including the Lacey in Tune Concert Series, Children's Entertainment Series, South Sound BBQ Festival, Outdoor Cinema Series, S.T.E.M. Fair, and Children's Day. It's also a great picnic spot for the whole family.
Tolmie State Park
Lacey
This 105-acre park features one-half mile of pristine Puget Sound beach front, picnic facilities, and 2.25 miles of walking trails. Located at Lacey's northern border via Marvin Road NE.
Rainier Vista Community Park
Lacey
This 46-acre park is a high-activity site with 3 soccer fields, 3 baseball/softball fields, tennis courts, sand volleyball, basketball, walkways, pickleball, picnic facilities, grills, rental picnic shelters, restrooms, and a local access skate park for the beginner and intermediate participant.
Nisqually National Wildlife Refuge
Lacey
This 3,700-acre nature preserve on the shores of Puget Sound and the Nisqually River delta is home to over 300 wildlife species and features an interpretive center, picnic areas, and 5 1/2 miles of walking trails.
Long Lake
Lacey
This lake consists of two basins connected by a narrow neck. Water activities are a huge hit here such as swimming, fishing, and boating. The connection to Long Lake park creates a beautiful connection between the lake and the land; In the warmer months the lake is often busy with families enjoying swimming and picnicking in the park.
Hicks Lake
Lacey
This lake is the first of three interconnected lakes that make up the so-called "tri-lakes area". The surface area of this body of water is 160 acres. Often it is looked at as surprising in such an urban area. The shoreline can be accessed through Wanschers Community Park. This lake is accompanied with other amenities such as picnic tables, bank fishing, grills, and more!
Pattison Lake
Lacey
This lake is the middle lake of the interconnected tri-lakes. Surprisingly located in a high urban growth area, coming out to a surface level of 265 acres. Although it expands over much land, the lake itself is shallow in depth. However, it is very popular for fishing and is stocked regularly with rainbow trout. Along with fishing, Pattison Lake is popular for canoeing and kayaking!
Smith Lake
Lacey
Alongside the Chehalis Western Trail, this lake spans across 10.5 acres. With lush greenery and places to sit down along the trails, this lake is a beautiful sight. This lake is best fished from a small boat or float tube. Rainbow trout are easily found in the summer months, and fairly abundant the rest of the months!
Chambers Lake
Lacey
This shallow, weedy lake is open year around and offers good to fair fishing for naturally reproducing largemouth bass, yellow perch, brown bullhead catfish, and stocked channel catfish. It offers a great opportunity for "site-fishing". The lake is accompanied by Chambers Lake Park which is home to beautiful lily pads and lush greenery. Kayaking here is a natural favorite in the summer as well as the trail alongside the lake!
Lacey Woodland Trail
Lacey
This paved pedestrian, skate, and bicycle trail parallels Pacific Avenue for 2.2 miles through the center of downtown Lacey, connecting Woodland Creek Community Park on the east and the Chehalis-Western and Olympia Woodland Trails at the west.
I-5 Bikeway
Lacey
The 3-mile paved urban trail for pedestrians and bicyclists connects the satellite State Capitol Campus in Lacey to the main campus in Olympia. Trail parking available at Lacey City Hall/Lacey Library.
Chehalis-Western Trail
Lacey
This paved pedestrian and bicycle trail runs along Lacey's western border, and stretches north 6.5 miles to the Woodard Bay Natural Resources Conservation Area and south 16 miles to the rural town of Rainier. The trail features access to Puget Sound, Chambers Lake, the Deschutes River, wetlands, forests, farm land, creeks, prairies, and other habitats. There are numerous trailheads.
*For a complete list of Lacey Parks please visit